Published on October 26th, 2009

location: Kopaonik | size:120m2 | status:on site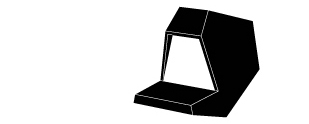 Traditionally, mountain homes in this region are built around the same formula with characteristic roof geometry. This one takes the idea to the extreme; roof planes are dominant while external walls are omitted altogether. Front facade is the glass screen oriented toward hilly landscape. Existing planning code and client's preferences are translated into the design rules for relational modeling resulting with a number of possible configurations
The building is located at the rim of the national park, and within the largest ski resource in the country. Planning code in this area is stringent and meant to preserve nature form unrestrained growth and stipulate development of the rural ambiance. Yet in reality, it has failed immensely. The area is overcrowded with buildings producing a surreal catalogue of planning evasions, all possible because of the local authorities turning a blind eye to what is going on and also because the planning code itself is the nonsensical interpretation of what the traditional mountain habitat is. The code stipulates the following: building height, relative occupancy of the lot, degree of inclination for the roof planes and the choice of several materials for the external finishing. Its straight forward interpretation leads to the production of pitched roof houses with no contextual or environmental awareness.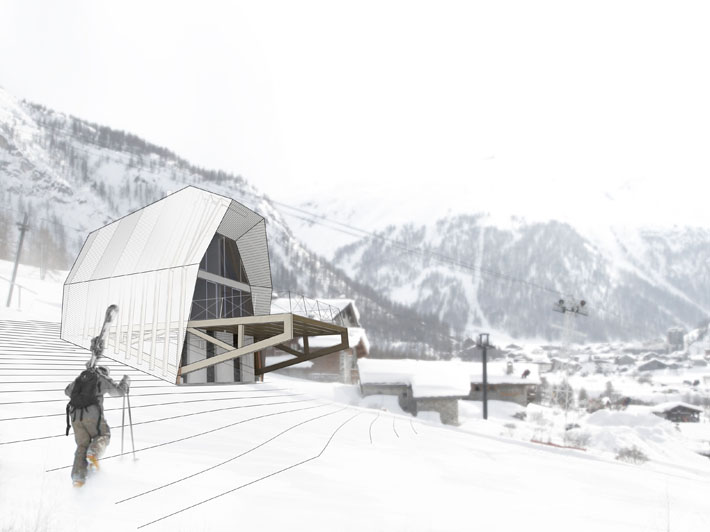 Looking elsewhere for the incentive to start the project, we came across the traditional mountain homes scattered in the region, recognizable for their timber structure and characteristic roof geometry geared to provide usable attic space with no excessive volume. We thought that such model would be energy efficient and well suited for its owners, keen skiers. The roof has become the dominant feature with its planes reaching the ground while the walls are omitted altogether. Its geometry shields the house from its neighbors while it frames the unobstructed view of the rolling hills on the southern side. Consequently, the entire building is oriented toward this side via large glass screen and cantilevering terrace.
In the search for the perfect roof form, a design protocol is set to accommodate changing values of its key parameters, taken as a combination of planning regulations and clients preferences. Use the green slider to view a series of models, regarded as a sequence of possible solutions varying in their shape but sharing the same characteristics. In the end, subtle differences did make the difference and some models were more attractive then others. Naturally, a decision was based on the clients preference. In parallel and out of curiosity, we have opened a public pole on our blog with twelve models on display. Surprisingly, the public (possibly entirely made of architects) has endorsed a different model.
The building consists of two mirrored units, planed for two well acquainted but independent owners and their families. Their insistence on two identical units causes the symmetry and the verticality of the internal organization with the central structural element acting as a divider. Both units are granted a complete privacy but large sliding door is left as a possibility of uniting their living rooms, for the purpose of a communal entertainment or large gatherings.
Structural concept places significance on the dividing wall to get lateral stability. Entire body is made of the visible timber structure, and laid on the concrete foundation. The building is sunk into the landscape, with the terrace platform resting on two massive girders cantilevering up to four meters.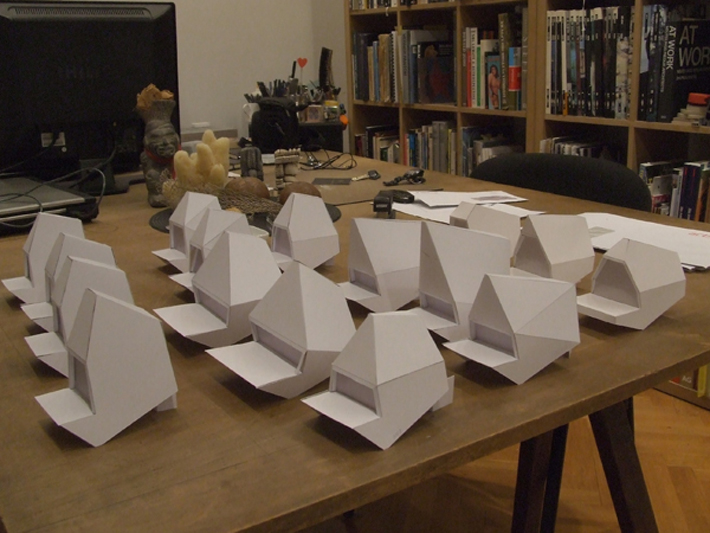 ---
credits///design: 4of7///Milutin Cerovic, Vladimir Pavlovic, Djordje Stojanovic /// structure: Tekic